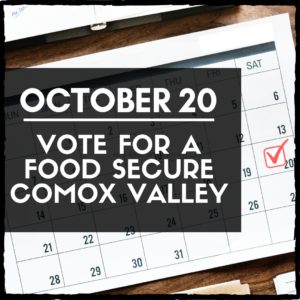 Vote for a food secure Comox Valley on October 20th!
Are you concerned about issues related to community food security, poverty, health, local food, urban agriculture, and other matters related to resilient communities and food systems?
At LUSH Valley Food Action Society (LUSH Valley), we know how important it is to have leaders and decision makers, across the region, that will stand up for our local communities, economies and the environment especially as it relates to healthy food production and access.
On October 20, you have an opportunity to go to the polls and vote for a Food Secure Comox Valley.
Today we have sent all candidates across the region Food Security Briefing notes and a six question survey to find out more about where they stand on Food Security initiatives.
Questions for Candidates:
If you will be attending an all candidates debate or have an opportunity to talk to candidates in your community please consider asking one of the prepared questions, and let us know how it goes by writing to us at: admin@lushvalley.org.
In the Comox Valley, we estimate that 1 in 5 people experience poverty and food insecurity. Healthy food and community food engagement have been shown to lead to significant long-term health and well-being outcomes, especially for children. If elected, what would you do to ensure all residents have access to healthy food?  How will you support community-based food security programs?
A Vancouver Island Region Food Charter has been written and supported by food security organizations across Vancouver Island (these are funded by Island Health). It sets out a vision for a health-oriented, local and equitable food system. If elected, would you support the adoption of this Food Charter for your jurisdiction?
The development of progressive food security policy is important at all levels of government. If elected, would you support the development of a Municipal/Regional Food Policy Council?  Would you advocate for local jurisdictions to work with other levels of government on food security issues? What food security issues do you see as being a priority for this region?
In 2010, the region created a comprehensive Sustainability Strategy. If elected, will you encourage the adoption of relevant 'food security actions' outlined in the strategy?
Would you support using municipal/regional lands and infrastructure to develop local food systems (e.g. farmers' markets, community gardens, land leasing, etc). If yes, what would be your first priority?
What will you do to increase awareness of food insecurity and address related issues such as poverty and affordable housing?
Candidates have until Oct 6th to respond and on October 10th we will post the results publically and let you know what they had to say. Please watch our Social Media channels (@lushvalley) for announcements of all candidates' debates across the region.
Thank you again for your support and interest.  If you have any question about LUSH Valley's role in advocacy please contact us at: admin@lushvalley.org.