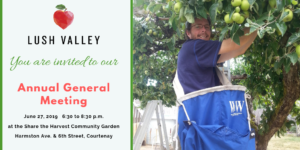 Come to our AGM to hear more about LUSH Valley's 2018-19 year, and what new initiatives are in the works. Tour our beautiful Share the Harvest Community Garden, hear about LUSH Valley's 2018-19 year, and learn about several new and exciting initiatives. We will be selecting some new members for our Board of Directors and saying a fond farewell to a few who have given years of dedication to our organization. We will host a light dinner, give garden tours, and have our mobile cooler and harvest vehicle on display. Tickets are free.
PLEASE RSVP ON EVENTBRITE BY 2:00 p.m., JUNE 23.
AGM is Thursday., June 27, 6:30 – 8:30 p.m.
at the Share the Harvest Community Garden
(Corner of 6th Street & Harmston Ave., Courtenay)
Notice of Change to the LUSH Valley Bylaws
The LUSH Valley Board of Directors will recommend new bylaws to the membership at the Annual General Meeting. The proposal modernizes the organization's governance structure by bringing it in line with the New Societies Act and current best practices.
CLICK THE GREEN LINK BELOW TO DOWNLOAD A PDF & READ OUR BYLAWS.

LUSH Valley Updated Bylaws for 2019 AGM Special Resolution
______________________________________________________________________________
Not a member?
Membership to LUSH Valley is free (donations are always welcome).
Sign up through our website or fill out our new membership form at the AGM.
Questions?
Please email admin@lushvalley.org or call us at 250-331-0152.