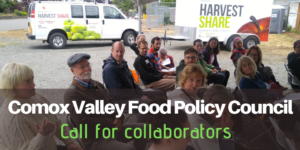 LUSH Valley is being supported by the Comox Valley Regional District to create a regional Food Policy Council and we are looking for community collaborators.
What is a Food Policy Council?
Food Policy Councils (FPCs) are comprised of individuals from all aspects of a local food system. A Food Policy Council is an innovative collaboration between citizens and government officials. The goal is to provide a forum for advocacy and policy development that works towards the creation of a food system that is ecologically sustainable, economically viable and socially just. The primary goal of many FPCs is to examine the operation of a local food system and provide ideas and policy recommendations for how it can be improved.
This video out of North Carolina is specific to it's region and also gives us a great example of an engaged Food Council and what it can do for its community. Watch a video that describes Food Councils.
Think you might be interested in joining or learning more?
Please click the links to download our Expression of Interest (EOI) and Draft Terms of Reference.
Note that the updated deadline for EOIs is Monday, August 19th but EOIs will be vetted ongoing as they are received.