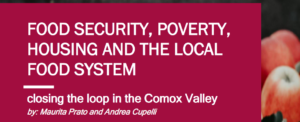 By Andrea Cupelli and Maurita Prato
The core issues and underlying root causes of food security are intertwined with issues of poverty, inadequate or precarious housing and other barriers which block access to healthy and culturally appropriate food. On the other end of the food system, local growers and new entrants to sustainable food production suffer due to the competition in a global food market plagued with subsidies, inequalities, and externalities.
The following report is the result of a six-month community engagement and research study in the Comox Valley to look at ways we might create more pathways for local food and food empowerment programs to flow directly to people living in social housing. The goal is to use this research to leverage the right resources so we can do a better job in our community of providing food as medicine to those in need, increasing local food production and support for growers, while decreasing isolation in vulnerable populations living in social housing through food literacy programs.