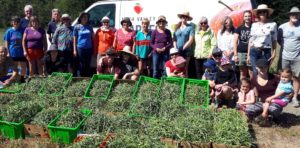 For our first farm glean of the season at Cameron Family Farm in late June, 25, volunteers harvested 330 pounds of garlic scapes in two hours!
After a successful first season in 2018, LUSH Valley is pleased to continue with its Farm Gleaning Program for the 2019 growing season. The program has seen a 350 percent growth in terms of the volume of produce redistributed in 2019, versus the same period in 2018.
This impressive growth can be attributed to the many people in the Comox Valley who believe in a robust and resilient local food system and are working hard to ensure its success. More volunteers are spending more time on an increased number of farms. As a result, much more fresh produce is successfully being redistributed in the community.
Michelle from Comox Valley Family Services has seen the impact first hand. "We hear so much positive feedback from the Healthy Families participants who receive food from the Farm Gleaning Program," she says. "The parents appreciate being able to add a variety of local, fresh fruit and vegetables to their families' diets, without having to make difficult budgeting decisions. We see families sharing recipes, as well as sharing knowledge about preserving different foods as they come into season."
Farmers are increasingly recognizing the value of having volunteers on their farms; whether it is a weeding work bee or help with the harvest.
Jay Williamson of Tendergreens Farm was overjoyed to witness the impact a group of volunteers had on their farm.
"I am so grateful for the huge crew of LUSH volunteers who came out to my farm and did a ton of weeding with me," reported Jay. "Sixteen people showed up! We finished the work bee early because I ran out of areas to weed! What an incredible mid-summer gift. Thank you!"
Despite high consumer demand, some crops such as green beans and field tomatoes can be a challenge for local farmers to bring to market because of the labour involved.
"Last year LUSH volunteers helped me glean the field tomatoes at my farm," says Michael-Anthony of Last Straw Farm. "Typically, this isn't a very profitable crop for us, but this year, knowing that I could count on the help of LUSH volunteers, I've tripled the planting."
As the program continues to experience significant growth, with more volunteers and more farmers on board, the real challenge lies in ensuring the effective distribution of fruits and vegetables.
"Getting the harvest to our community partners in good condition and appropriate quantities is a challenge," says James McKerricher, LUSH Valley Farm Gleaning coordinator. "Understanding the needs of our various partner agencies and delivering the products they will best utilize requires a lot of communication and established relationships. Some organizations only want fruits and vegetables that can be eaten fresh. Others can handle large volumes of produce for soups and other prepared foods."
With the growth of the Farm Gleaning program, LUSH Valley is looking to expand its volunteer base. "It is still early August and the harvest season has only just begun. It looks like it will be a bountiful season," notes James. "In particular, LUSH is looking for people interested in helping with the sorting or grading and distribution of produce. It is a suitable task for individuals who are not necessarily wanting to work in the fields but are interested in supporting the program. Most of the work is done sitting at a table, and no heavy lifting is required."
Potential farm gleaning volunteers should contact James McKerricher at fruit@lushvalley.org.