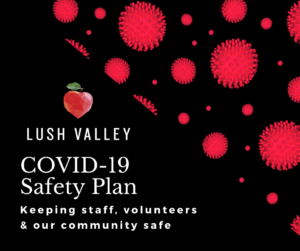 What are the risks?
The virus that causes COVID-19 spreads in several ways, including through droplets when a person coughs or sneezes, and from touching a contaminated surface before touching the face. Higher risk situations require adequate protocols to address the risk.
The risk of person-to-person transmission is increased the closer you come to other people, the amount of time you spend near them, and the number of people you come near. Physical distancing measures help mitigate this risk.
The risk of surface transmission is increased when many people contact the same surface, and when those contacts happen in short intervals of time. Effective cleaning and hygiene practices help mitigate this risk.
LUSH Valley's Level of Risk: Low.
Safety Protocols in place:
Hygiene Protocols:
Wash hands often often
Wipe down any high touch surfaces frequently
Wipe down any communal equipment (printer, wipe boards) after use
Wipe down workstations at the end of the day
Maintain physical distance 2-meters whenever available
Stay home when sick or having COVID-19 type symptoms.
Working Conditions
We will consider remote work options for workers who do not require an office and/or site-specific attendance.
We will alternate space use to reduce the risk of exposure and maintain the physical distancing requirement.
We will avoid meetings or gatherings where physical distances cannot be maintained. Consider using larger rooms, moving meetings outside, or having all or some attendees attend virtually.
If working in the office or warehouse, workstations must be at least 2 metres apart and away from communal pathways.
Where possible, cancel in-person meetings and hold meetings by teleconference, video conference, or email instead.
Minimize sharing office space or workstations. If workers must share office space, integrate these locations into your cleaning and hygiene protocols, ensuring that frequently-touched surfaces are addressed such as the computer keyboard and mouse, desk surface, and telephone.
In the event that we need to increase the use of the office then we will arrange for Cohorts of workers on key days
Visitors
No outside visitors that are not staff or volunteers or program supports/partners. LUSH Valley team only (staff, students, contractors, deliveries, cleaners and partners).
Additional visits for media relations or communications to be approved for each instance by Executive Director and media most follow safety protocol.
Visits to the workplace should be prearranged, staggered, and safety protocols should be communicated before entry into the workplace (e.g., email and/or signage posted to the entrance).
Keep a record of outside visitors to the workplace, date, name and time. Minimize non-essential in-person interaction between workers and visitors (e.g., use of virtual meeting tools, email, or telephone)
Travel
Non-essential transportation or business travel should be limited and on an exceptional basis only.
Notification to the team of external travel out of province, provide potentially quarantine.