Following the success of our first-ever Subscription to the Good Food Box this Summer is LUSH Valley's Autumn Good Food Box Subscription, starting August 25th. This 10-week program offers convenient & consistent access to fresh, local produce during the delicious transition from summer to autumn. 
Every Thursday from August 25 to October 27, customers can expect to receive a balanced variety of fruit & vegetables in their Good Food Boxes, with 75% to 100% of ingredients sourced from Comox Valley farmers & growers. 
Registered customers will have fresh food Boxes ready for pick-up every Thursday from 10:30 am to 6:30 pm. Contents will change week-to-week but will prioritize what's in season and always deliver a delicious variety.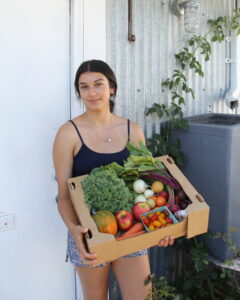 Autumn Subscription customers will:
Get consistent access to fresh, local produce at a great value
Reduce the distance your food travels from farm to fork
Support Comox Valley food producers, strengthening our local food economy
Help LUSH Valley nourish more individuals & households in our community experiencing food insecurity
Let LUSH Valley do the shopping for you – we have the connections. To secure your Autumn Good Food Box Subscription for 2022, visit our online store at www.localline.ca/fruit-and-veg