Join us on September 17th for LUSH Valley's third annual Farm to Table Fundraiser!
Fall in love with the flavours of our valley—the fond, the familiar and the farmers' favourites.
LUSH Valley's third annual fundraising event at Amara Farm will take place in two seatings this year: lunch & dinner.
Each seating will start with a farm tour and canapés, followed by a family-style service for tables of eight. Both lunch and dinner will be primarily plant-forward, highlighting the late-summer abundance of our Valley.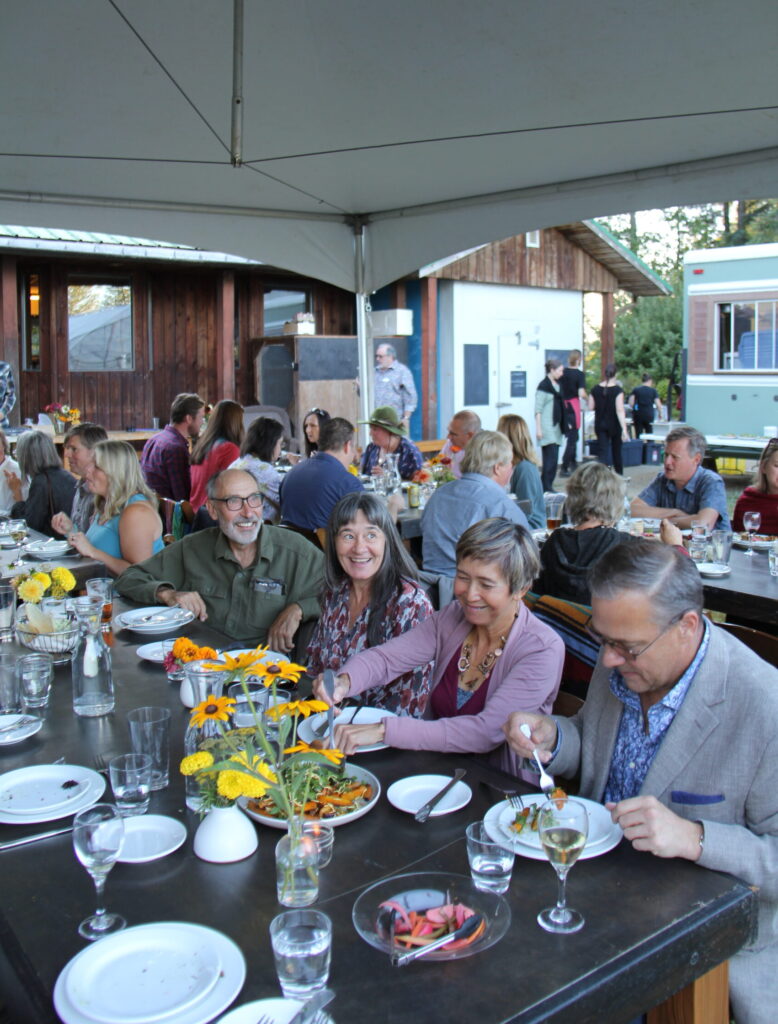 The Farm to Table menu will feature local ingredients playing with global street food influence. Guests will enjoy the rich, abundant flavours of the Comox Valley through a series of dishes prepared by LUSH Valley in partnership with the Farmer's Kitchen Food Truck. 
We will be serving handcrafted cocktails and mocktails incorporating seasonal influences, along with beer from Cumberland Brewing Company and cider from Raven's Moon. This event menu includes ample options for guests who are gluten-intolerant, vegan, and/or dairy-free.
Also available throughout the evening will be our 50/50 raffle and silent auction.
Take in the serenity of Amara Farm, celebrate local food, drink and music while supporting food security programs and advocacy in the Comox Valley. Join us for our 2023 Farm to Table Fundraiser!
To purchase your tickets, click here.
---
About the Partners

The Farmer's Kitchen Food Truck draws inspiration from a variety of global street vendors and puts a vibrant twist on dishes by highlighting local, in-season ingredients. For over two years, the Farmer's Kitchen has been collaborating with LUSH Valley on fundraising events, catering and the Hot Meal program.
Amara Farm was established in 2012 by Arzeena Hamir and Neil Turner who shared a dream to grow healthy food for their community. The Farm received its certified organic status in 2015 and has since earned awards such as the Land of Plenty Award (2018) and the Comox Valley Record's Best Market Vendor (2019).
About the Musicians
Kosma Busheikin started taking guitar lessons at the age of 16 with singer-songwriter Kevin Mitchell when his passion for performance was born. After graduating from Vancouver Island University with degree in Jazz Performance as encouraged by Marc Atkinson, Kosma is now based out of Nanaimo. Kosma has played at Hermann's Jazz Club, Frankie's Jazz Club, The Port Theater, Tofino Jazz Festival and the Hornby Island Music Festival, among other venues. He currently plays in the John Lee Trio, Graham Villette's "Organized Crime", Tasha Adam's Quartet and the NMA big band. He always brings his love of blues and swing to the bandstand.
Nick Peck is an award winning composer, pianist and organist from London, UK. After graduating from London's Guildhall School of Music and Drama, Nick was increasingly active as a sideman, gaining valuable hands-on experience accompanying UK Jazz heros including Peter King, Derek Nash and Paul Booth in and around London and the South of England. After moving to Canada, he established a new presence on the west coast, appearing in clubs and festivals across the country. Nick has performed with Peter Bernstein, Joe Magnarelli, Nick Hempton, Terell Stafford, Oliver Gannon, John Lee and Cory Weeds, among others, and has also recorded for the Cellar Live Label.
---
Please note: There are a maximum of 64 tickets available per seating. Tickets must be purchased at least one day prior to the event.
This event menu includes options for guests who are gluten-intolerant, vegan, and/or dairy-free. Meal modifications are respectfully declined; please notify us of any severe allergies before purchasing a ticket.