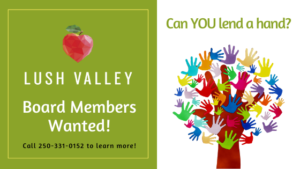 LUSH Valley is seeking up to three Board Members who will serve a two (2) year term and help LUSH Valley to achieve its vision and mission. Working in close partnership with the Executive Director, the Board meets monthly to govern and ensure strategic direction of the organization. Board Members will attend board meetings, participate in working group activities, advocate for the organization, and help with key activities or events. The commitment time is 5-10 hours/month. Terms are eligible for renewal.
Founded in 2000, LUSH Valley Food Action Society is a non-profit and charitable agency whose Vision is "A region where healthy local food is at the heart of community well-being".   We are dedicated to providing community food security services, programs, and advocacy in the Comox Valley. You can find more information about our work and priorities on our website.
The Role
Board members work collegially to provide strategic leadership for the organization by:
Supporting the Executive Director in their role

Ensuring strategic direction of the organization

Sharing ideas and support in the areas of finances, networking, fundraising and governance

Raising the profile of LUSH Valley in the community, and

Building relationships with community stakeholders.
Desired Experience
We seek individuals with experience in one or more of the following areas:
• An understanding of the Comox Valley community and a passion for LUSH Valley's work.
• Governance and/or work experience with a nonprofit organization.
• Awareness and knowledge of social justice issues.
• Financial and/or business knowledge or expertise.
• Experience in community- and relationship-building
• Fundraising and community outreach.
How to Apply
Please send expressions of interest and a resume outlining relevant experience and skills to jen@lushvalley.org at your convenience or by January 15, 2020.
LUSH Valley is committed to inclusion and diversity within our organization. We welcome and encourage applications from individuals of all backgrounds, but especially individuals in equity-seeking groups.
Please follow this process if you have previously expressed interest in the Board through our website.