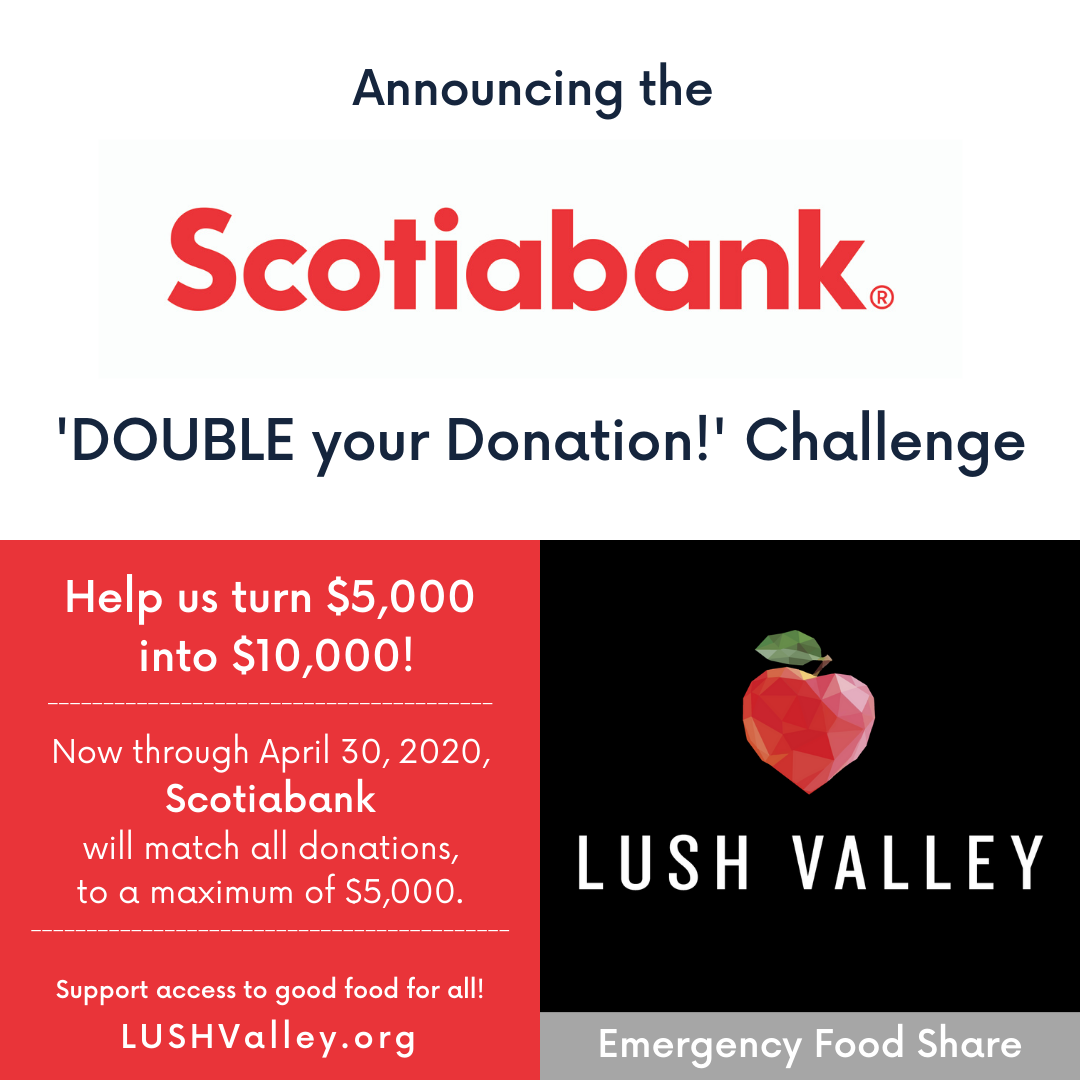 The sudden onset of the COVID-19 Pandemic … resulting in layoffs, requirements for self-isolation/quarantine, and a myriad of other challenges have resulted in our organization evolving from our grass-roots food security activities to being an emergency frontline resource in a matter of days.

Over the past three weeks LUSH Valley, organizations and individuals who are working across the food sector, including community and health agencies, have been mobilizing to plan and meet the food needs of our community and to gather information about what they are seeing happen in terms of food and food systems in our communities both locally and globally.

LUSH Valley and the CV Food Policy Council has been working with our community partners on our emergency response.  All staff are working remotely.
Fundraising is ongoing and, thanks to the generous support of the Scotiabank and a $5,000 matching grant, from now until April 30, the value of every donation will DOUBLE.!
Support our Emergency Food Share program and double your impact here!
Highlights of (some) of our efforts from March 16th to April 3, 2020:
Organizing an emergency food response when the CV Food Bank ran out of food. We reached out to businesses, restaurants, farmers and neighbours to distribute food to the Food Bank and five other key agencies.
Fundraised through individual donors to purchase food and $8,000 in grocery store gift cards (plus another $1,000 donated by Edible Island Whole Foods Market) to provide immediate food access to families and individuals while we worked on our Emergency Food Share Plan. (To ensure the most value from donations, gift cards will be phased out when our hamper program gets up and running as food can be purchased in large quantities more affordable through wholesalers.)
Emergency Food Share program: Created and launched an online platform (lushvalley.org/food-share) to gather information on individuals and agencies' food access needs and developed a plan to serve them. This platform also allows businesses and farmers to donate food.  Hired a coordinator to support this program. Set-up a helpline (250-207-HELP). Wrote program manuals, secured and trained volunteers to manage the calls and assist individuals who are not able to access a computer to enroll in the program.
Secured locations with The City of Courtenay and the CVRD to set-up our Emergency Food Share services. These locations are for distribution only and the locations will not be released to the general public. This is in an effort to maintain COVID-19-related safety protocols and FoodSafe practices. The number of volunteers engaged will be limited, to keep everyone safe.
Hot Meal Program: April 1 we began preparing cooked meals for distribution through our community partners (BC Housing, Senior Support Services, Salvation Army, CV Family Services, Community Health Network, Mental Health, Transition Society, etc. to name a few.) 1,000 meals a week will be distributed through this program.
Good Food Hamper Program: Starts April 8th, with 50 hampers/day for the first week to scale to 200/day (1,000/week).
Grow Food Everywhere Campaign: Launched to support home gardeners to grow food through. This includes an active Facebook group (for idea sharing, questions, etc.), as well as planning for the distribution of seeds, soils and seedlings.
Healthy Foods Programs going online:  This will launch the week of April 13, to ensure continuity in our educational programs. Will include online classes, many geared to students, as well as two Facebook Groups, one for the general population and one geared towards educating children and teens about healthy food.CV Farmers Market/local farmers: Farmers are considered an essential service to remain open. LUSH Valley has offered our support for their new online market, assisting with aggregation and delivery of local produce.  To further support our community, we will buy local whenever possible.
Cumberland Food Share Initiative: We are sharing resources and partnering with them to provide this service.
School District 71: There is an immediate need to distribute food to students /families connected to the school system. Many children who once relied on school lunch and breakfast programs now have no access to food. Plans are being made to address this urgent need.

While we have been encouraged by the amazing community support we have received thus far, however, the financial resources to roll out these programs are extraordinary and will be ongoing for weeks to come. All donations, large and small, will help us feed our most vulnerable populations during these unprecedented times.
Monetary donations, rather than food items, are most helpful as they enable us to do our part to 'flatten the curve' and feed people in our community.

Thank you for your consideration.
Donate here and your donation will double, thanks to the Scotiabank!