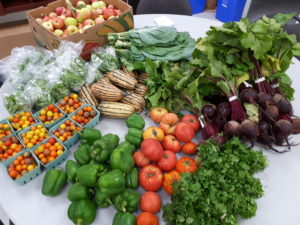 On the evening of Earth Day, April 22nd, LUSH Valley and the Comox Valley Food Policy Council (CVFPC) hosted a 'Comox Valley Thriving Local Food Supply' meeting.
We invited local farmers and food providers/producers from across the Comox Valley to discuss what challenges they were facing this season and what supports they might be interested in. We had 30 people join the call. From what we heard we created a survey, the survey was answered by 18 local farmers, here were some of the results:
• 77% would produce more if they had the support to do so
• 77% were looking for additional labour
• About 80% were interested in selling their produce to our emergency programs and/or learning more about it
• 90% wanted help with promotion
• 41% are looking for new secure markets for their products
• The majority were interested in free weekly deliveries and a farm stand map.
Our Food Access Manager, James McKerricher, has been reaching out to farmers who are interested in selling their produce to our Good Food Box and some of them are already supplying local food. We are also gaining more specific knowledge about labour needs in hopes of matching up volunteer and summer job labour with specific farms.

Members of the CVFPC such as Arzeena Hamir of Amara Farm has created a virtual farm stand and Comox Valley Economic Development (CVEDS) also has some resources for farmers.

We are looking forward to continuing to work with and support our amazing local farmers, food producers and providers throughout this season and beyond.