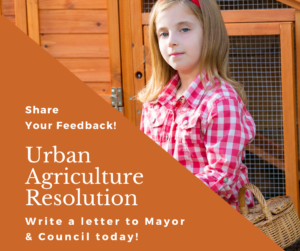 Councillor Wendy Morin's Urban Agriculture Resolution went to The City of Courtenay Council on June 1st and was passed unanimously. You can watch the resolution and discussion on YouTube here, between 1:20 and 1:50 minutes.

The next step will be for staff to create a report about the action needed to implement the resolution … which will then come back to City Council for discussion and approval.

Please be aware that this vote does not mean the motion is in place. You can help to get it passed by writing a letter to the Mayor and Council to let them know that you are supportive of the new Urban Agriculture Resolution.

The full resolution as presented:

'Whereas the onset of COVID-19 has significantly impacted food security for local residents; and

"Whereas there has been an upsurge and interest in urban food production, and efforts to enhance local food security; and

"Whereas food security policy aligns with the Council's strategic priorities of climate change mitigation and sustainability goals;

"Therefore be it resolved that [City of Courtenay] Council support urban agricultural opportunities and improved food security by directing staff to prepare a draft bylaw for Council's consideration that considers past research done by LUSH Valley Food Action Society and North Island College, and current input from the Planning Department, the Comox Valley Food Policy Council, and residents, to allow small-scale commercial urban food production, including but not limited to chickens (not roosters), bees, and urban farm stands on all residential property within the City of Courtenay; and

"Furthermore, that staff consult with the Town of Comox's planning department in the interest of alignment with their proposed urban agriculture policy."

Read more in this Comox Valley Record story.

To keep current with the CV Comox Valley Food Policy Council visit their new Facebook page or learn more on our website.